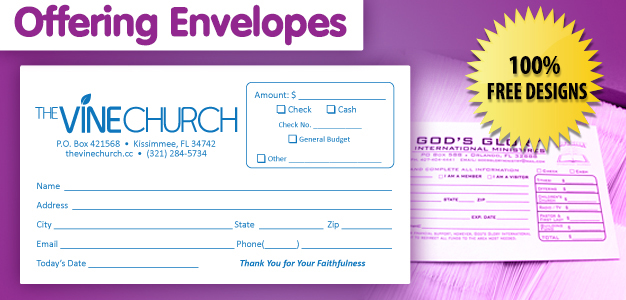 About Offering Envelopes
•

SAME DAY & NEXT DAY Service Available

•

Printed on a standard 24# / 60#

• Four business day turnaround (standard)
• Many Options to choose from
• Cut Off Time for Next Day Service is 12:30 p.m (EST)
• One, Two or Full Color available
• Cut Off Time for Same Day Service is 10:30 a.m (EST)
• Cut off time for standard orders is 2:00pm (EST)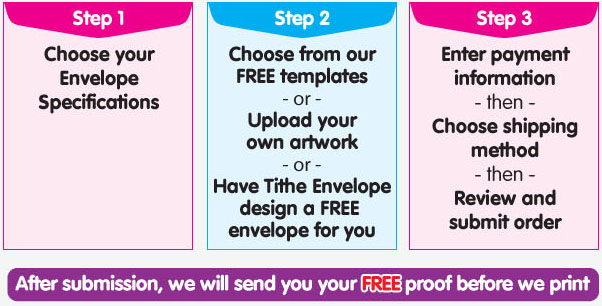 Offering envelopes are great for churches or non-profit small organizations. These envelopes are printed from one to full color. These envelopes can also be printed on both sides. We understand our customers need. Church offering envelopes are the best option for the offering's collection. These are accessible in large single and small single-pockets and different types.

Church offering envelopes are included at the front of each box. These custom church offering envelopes recommend that the owner of envelope gives a sum of money to assist defray the cost of the boxed set. Each worshipper is provided with weekly envelopes imprinted with his/her unique number. These numbers allow for fast and exact record keeping. Each weekly envelope in the set may be numbered and dated at no additional cost.

If you need to collect tithe envelopes or donation envelopes for your church, Titheenvelope.com is the best option. Alpha Press is one of the best printing companies that offering the highest quality printing services at a part of the cost of other printing companies. You can take pride in knowing that you are not dealing with a broker and that your order will not be farmed out.

We also offer foil stamping and embossing for envelopes. Please don't hesitate to contact us if you've any query. We welcome the opportunity to serve your printing needs.